ead below for more help with your online account.* You are welcome to reach out to us for any additional assistance.

Instructions are included below for:
Creating an Account

Signing in to Your Account

Resetting Your Account Password

Creating and Sharing Wishlists
*Due to current restrictions, only orders you have placed on the website will be available in your online order history. if you need accurate documents for tax purposes, be sure to print & keep your finalized invoices that we email to you the day your order ships. You may also reach out to us for a summary of your purchases at any time.
---
Creating an Account

By creating an account, you can check out more quickly and gain access to additional storefront features, like:
Order Messages

Viewing their Order Status

Viewing Completed Orders

Address Book

Wishlists

Account Details

Recent Items
1. Click REGISTER at the top of any page of our website.
2. Fill out the Personal Details and Shipping Details forms. All fields marked with an asterisk (*) are required.
3. Click Create My Account. You will then be taken to the My Account page.
***If you are a WHOLESALE customer, please reach out to us prior to shopping or adding items to your cart so that we may update your wholesale status in the backend of the website.
---
Signing in to Your Account
1. Click SIGN IN at the top of any page of our website.

2. Enter the email address and password for your account, then click Sign In.
---
Resetting Your Account Password
1. Click the SIGN IN from the top of any page of our website.

2. On the next screen, to the right of Sign In, click the Forgot your password? link.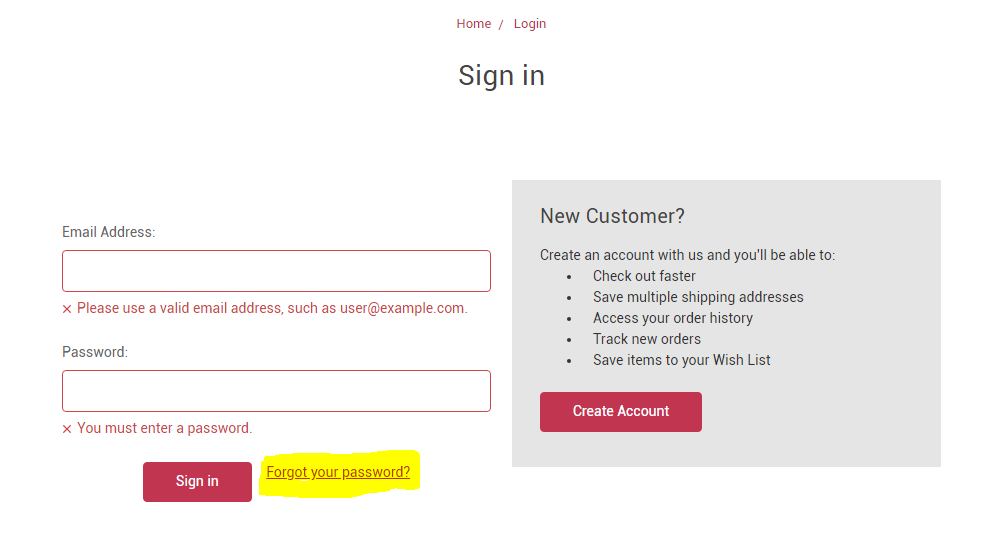 3. Enter the email address associated with your customer account, then click Submit. If a valid email address was submitted, you will see a "Thank you" message.
4. Within five minutes you should receive an email with the subject line Password change request for Heartbeat Quilting. Click the link in that email.
5. Enter your new password twice, once in the Password field, and a second time in the Confirm Password field, then click Continue. You should see "Your password has been changed and you can now login below."
---
Creating Wishlists
To create wishlists, you must first log in to your account. Customers who are not logged in to accounts will still see the Add to Wishlist button, but will be taken to the Sign In or Create an Account page if they attempt to add an item to a wishlist.
Once signed in, you can follow these steps to create a new wishlist. There is no limit to the number of wishlists you can create.
1. Click Account. This link is located at the top of any page of our website.

2. Click Wish Lists, then click the New Wishlist button.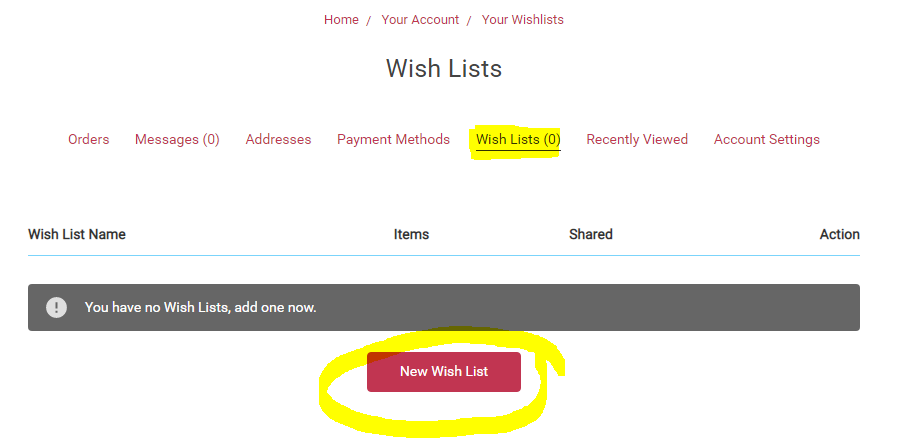 3. Enter a Name for the wishlist. If you would like to share their wishlist with a link, check Share Wishlist?.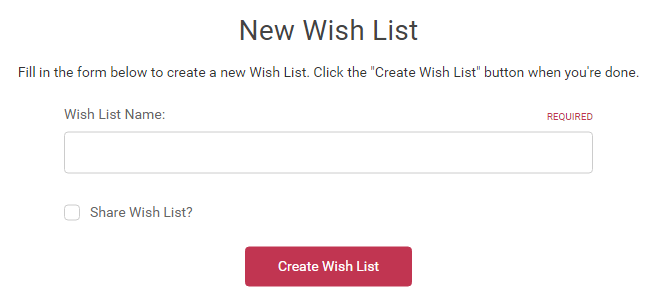 4. Click Create Wishlist to save your wishlist.